Vol. 34 No. 4 September 2017
HUBUNGAN ANTARA HENDAYA KOGNITIF DAN GENOTIPE APOE ε4 TERHADAP KEMANDIRIAN LANSIA
Eveline,* Yuda Turana,* Josephine Retno Widayanti*
ASSOCIATION BETWEEN COGNITIVE IMPAIRMENT AND APOE ε4 GENOTYPE WITH INDEPENDENCE IN ELDERLY

ABSTRACT
Introduction: The prevalence of cognitive impairment and disability increases with age. Severe cognitive impairment can lead to an inability to live independently and decrease ability in doing more complex daily life activities. The genotype of APOE ε4 affects cognitive impairment and is associated with walking, motor skills, and disability functions. Elderly with APOE ε4 will tend to experience inability to live independently.
Aim: To determine the relationship between cognitive impairment and APOE ε4 genotype with independence in elderly.
Method: Cross sectional study in 210 elderly subjects ≥60 years, conducted from July to October 2015 as part of Atma jaya Cognitive Aging Research. Cognitive impairment is observed when the score of Mini Mental State Examination (MMSE) is less than 24. The APOE ε4 genotype was assessed using restriction fragment length polymorphism (RFLP). Independence was assesed by Instrumental Activity Daily Living ( IADL).
Result: There were 29% participants had cognitive impairment, 3.3% required assistance in performing IADL, 24.6% had genotype APOE ε4+. Subjects were unable to use telephones (35.2%), transportation (26.2%), and unable handling finances independently (14.3%). The results of analysis showed significant relationship between cognitive impairment with telephone usage and transportation. There were no correlation between APOE ε4 and all variables of IADL.
Discussion: The presence of cognitive impairment is correlated with the ability in using telephones and transportation independently. There was no relationship found between APOE ε4 with independence in elderly.
Keywords: Activity of daily living, APOE, cognitive, elderly
ABSTRAK
Pendahuluan: Prevalensi hendaya kognitif dan disabilitas meningkat sejalan bertambahnya usia. Hendaya kognitif yang berat dapat mengakibatkan ketidakmampuan untuk hidup mandiri dan penurunan kemampuan untuk melakukan kegiatan lebih kompleks dari kehidupan sehari-hari. Genotip APOE ε4 berpengaruh terhadap hendaya kognitif dan berhubungan dengan fungsi berjalan, motorik, dan disabilitas. Lansia yang terdapat genotipe APOE ε4 akan cenderung mengalami gangguan kemandirian.
Tujuan: Mengetahui hubungan hendaya kognitif dan genotipe APOE ε4 terhadap kemandirian lansia.
Metode: Studi potong lintang pada 210 subjek lansia ≥60 tahun, dilakukan pada bulan Juli-Oktober 2015 sebagai bagian dari penelitian "Atma Jaya Cognitive Aging Research". Subjek dikategorikan memiliki hendaya kognitif bila nilai Mini Mental State Examination (MMSE) kurang dari 24. Penilaian genotipe APOE ε4 menggunakan metode restriction fragment length polymorphism (RFLP). Kemandirian lansia dinilai menggunakan Instrumental Activity of Daily Living (IADL).
Hasil: Sebanyak 29% subjek mengalami hendaya kognitif, 3,3% subjek memerlukan bantuan dalam melakukan IADL, 24,6% subjek memiliki genotipe APOE ε4+. Pada ranah kemandirian, subjek tidak mandiri dalam menggunakan telepon (35,2%), transportasi (26,2%), dan mengatur keuangan (14,3%). Hasil analisis menunjukkan adanya hubungan antara hendaya kognitif dengan penggunaan telepon dan transportasi, serta tidak terdapat hubungan antara APOE ε4 dengan ketiga ranah kemandirian lansia.
Diskusi: Adanya hendaya kognitif berhubungan dengan kemampuan menggunakan telepon dan penggunaan transportasi umum. Tidak terdapat hubungan antara genotipe APOE ε4 terhadap kemandirian lansia.
Kata kunci: APOE, Instrumental Activity of Daily Living, kognitif, lansia
------------------------------------------------------------------------------
*Fakultas Kedokteran Universitas Katolik Indonesia Atma Jaya, Jakarta.
Korespodensi
: yudaturana@yahoo.com.
---
---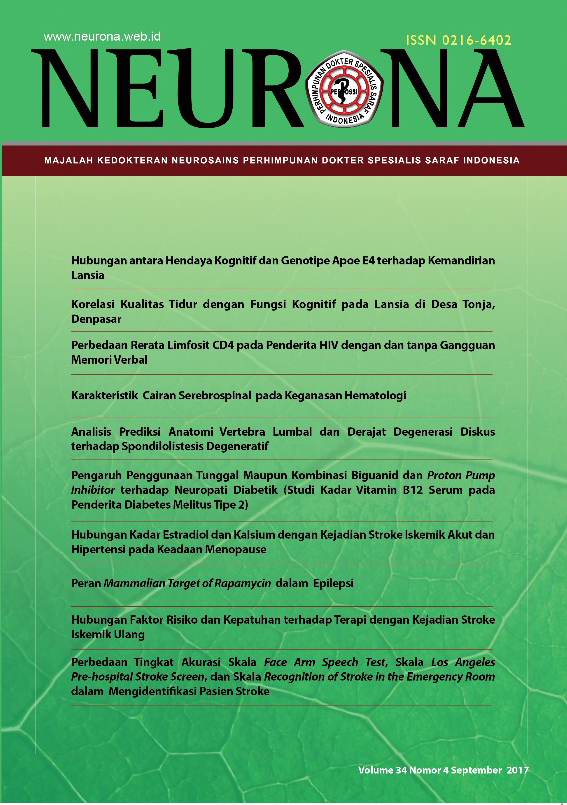 Vol. 34 No. 4 September 2017
Terakreditasi DIKTI Nomor: 12/M/Kp/II/15
Terindeks di



Statistik Pengunjung
| | |
| --- | --- |
| Visitors today | 0 |
| Page views today | 0 |
| Total visitors | 0 |
| Total page views | 0 |
Powered by Google Analytics