Vol. 34 No. 4 September 2017
HUBUNGAN ANTARA HENDAYA KOGNITIF DAN GENOTIPE APOE ε4 TERHADAP KEMANDIRIAN LANSIA
Eveline,* Yuda Turana,* Josephine Retno Widayanti*
Introduction: The prevalence of cognitive impairment and disability increases with age. Severe cognitive impairment can lead to an inability to live independently and decrease ability in doing more complex daily life activities. The genotype of APOE ε4 affects cognitive impairment and is associated with walking, motor skills, and disability functions. Elderly with APOE ε4 will tend to experience inability to live independently.
---
KORELASI KUALITAS TIDUR DENGAN FUNGSI KOGNITIF PADA LANSIA DI DESA TONJA, DENPASAR
Yuliantry Indah Lestari,* Desak Ketut Indrasari Utami,* I Gusti Ngurah Budiarsa,* I Putu Eka Widyadharma*
Introduction: Physiologically, the level of melatonin will decrease with the increasing of age thus creating impaired quality of sleep among elderly. Impaired quality of sleep thought to be associated with impaired cognitive function but research on the relationship between the those two in Indonesia are rarely reported.
---
PERBEDAAN RERATA LIMFOSIT CD4 PADA PENDERITA HIV DENGAN DAN TANPA GANGGUAN MEMORI VERBAL
Ketut Widyastuti,* Ni Made Susilawathi,** I Made Susila Utama,*** Anak Agung Ayu Putri Laksmidewi**

Introduction: Neurocognitive complications in Human Immunodeficiency Virus (HIV) patients are approximately 51% with the most cognitive domains impaired is memory (63%). Verbal memory impairment in patients with HIV is still found active antiretroviral therapy (ARV) that it can increase the levels of lymphocytes cluster of differentiation 4 (CD4) has widely used. Immune suppression shown in CD4 level is a strong determinant for cognitive impairment.
---
KARAKTERISTIK CAIRAN SEREBROSPINAL PADA KEGANASAN HEMATOLOGI
Yunni Diansari,* Tiara Aninditha,** Rini Andriani***
Introduction: Hematologic malignancies such as leukemia and lymphoma demonstrates leptomeningeal cell infiltration more frequently than solid tumors. A special approach in diagnosis and management is necessary, including analysis of cerebrospinal fluid (CSF) obtained from lumbar puncture (LP). The obtained CSF may have properties similar to CNS inflammation. There has been no specific research describing the CSF characteristics of hematologic malignancy in Indonesia; nonetheless, it is essential because, if found, the subsequent management of the patient will be quite distinct.
---
ANALISIS PREDIKSI ANATOMI VERTEBRA LUMBAL DAN DERAJAT DEGENERASI DISKUS TERHADAP SPONDILOLISTESIS DEGENERATIF
Risda Fitriyani,* Nasirun Zulqarnain,* Hermina Sukmaningtyas*
Introduction: Disc degeneration is an important factor in vertebra shifting progressivity, for example, degenerative spondylolisthesis which is the cause of low back pain and lumbal instabillity. Anatomically, there are some risk factors for degenerative spondylolisthesis, such as sagittal orientation of the facet joint , lumbal lordotic, abnormality in lumbal index, low disc height, and short spinous process.
---
PENGARUH PENGGUNAAN TUNGGAL MAUPUN KOMBINASI BIGUANID DAN PROTON PUMP INHIBITOR TERHADAP NEUROPATI DIABETIK (STUDI KADAR VITAMIN B12 SERUM PADA PENDERITA DIABETES MELITUS TIPE 2)
Marliani Afriastuti,* Aris Catur Bintoro,* Dwi Pudjonarko,* Tjokorda Gde Dalem Pemayun**

Introduction: Diabetic neuropathy is a neurologic disorder that related to diabetes mellitus, it can be found in 25-50% type 1 and type 2 diabetes mellitus. Biguanid (metformin) and proton pump inhibitor (PPI) frequently reported as a pharmacological cause of vitamin B12 deficiency. Vitamin B12 deficiency may worsen diabetic neuropathy that already occured, also may accelerate diabetic neuropathy events.
---
HUBUNGAN KADAR ESTRADIOL DAN KALSIUM DENGAN KEJADIAN STROKE ISKEMIK AKUT DAN HIPERTENSI PADA KEADAAN MENOPAUSE
Sheila Maria Kristina,* Kiki Muhammad Iqbal,* Yuneldi Anwar*
Introduction: High level of free endogen estradiol makes 2.3 times likelihood of stroke. Estradiol and calcium have different role in stroke patophysiology, thus the relationship between the serum levels of both substance to the development of ischemic stroke and hypertension is still controversial.
---
PERAN MAMMALIAN TARGET OF RAPAMYCIN DALAM EPILEPSI
Machlusil Husna,* Shahdevi Nandar Kurniawan*

ABSTRACT Mammalian target of rapamycin (mTOR) is a large serine/threonine kinase which plays major role in many cellular processes such as growth regulation and cellular metabolism, development and proliferation of adaptive immune function, and cell death through apoptosis and autophagy. The mTOR signal pathway works as molecular system integrator to support cellular and organism interactions with the environment.
---
HUBUNGAN FAKTOR RISIKO DAN KEPATUHAN TERHADAP TERAPI DENGAN KEJADIAN STROKE ISKEMIK ULANG
Bambang Bhayu Herlambang,* Ahmad Rizal Ganiem,* Aih Cahyani*

Introduction: History of previous stroke is one of the prominent of many recurrent stroke risk factors. The incidence of recurrent stroke is 20-30% of all stroke population, while the recurrent ischemic stroke in 5 years may reach up to 40%. Recurrent stroke is associated with longer duration of hospitalization, increased neurologic disability, and death.
---
PERBEDAAN TINGKAT AKURASI SKALA FACE ARM SPEECH TEST, SKALA LOS ANGELES PRE-HOSPITAL STROKE SCREEN, DAN SKALA RECOGNITION OF STROKE IN THE EMERGENCY ROOM DALAM MENGIDENTIFIKASI PASIEN STROKE
Suska Lara Ginting,* Rusli Dhanu,* Fasihah Irfani Fitri*
Introduction: Accurate identification of stroke is important for delivering acute stroke therapies in hospital. The Face Arm Speech Test (FAST) is a brief, reliable tool that is simple to administer for stroke patient identification. The Recognition of Stroke in Emergency Room (ROSIER) is not better than the FAST for recognition of stroke. The paramedics of Beijing use Los Angeles Prehospital Stroke Scale (LAPSS) as a screening tool to identify stroke and also to exclude stroke mimics.
---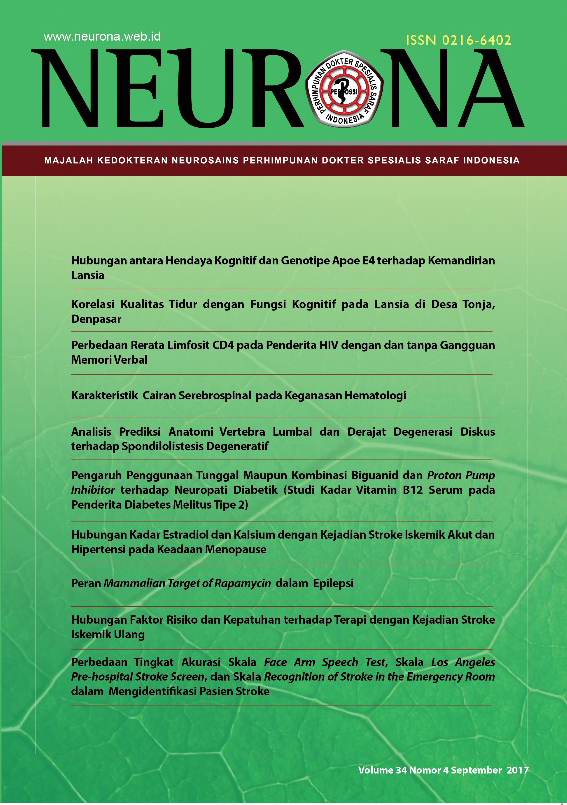 Vol. 34 No. 4 September 2017
Terakreditasi DIKTI Nomor: 12/M/Kp/II/15
Pengurus
| | |
| --- | --- |
| Ramdinal Aviesena Zairinal | Pemimpin Umum |
| Maula Nuruddin Gaharu | Pemimpin Usaha |
| Rizaldy Taslim Pinzon | Pemimpin Redaksi |
| Bayan Basalamah | Sekretaris Redaksi |
| Aditya Kurnianto | Redaksi Pelaksana |
| Retnaningsih | Redaksi Pelaksana |
| Indra Sari Kusuma Harahap | Redaksi Pelaksana |
| Rusdy Ghazali Malueka | Redaksi Pelaksana |
| I Putu Eka Widyadharma | Redaksi Pelaksana |
| Badrul Munir | Redaksi Pelaksana |
Terindeks di



Statistik Pengunjung
| | |
| --- | --- |
| Visitors today | 0 |
| Page views today | 0 |
| Total visitors | 0 |
| Total page views | 0 |
Powered by Google Analytics