Vol. 34 No. 4 September 2017
HUBUNGAN FAKTOR RISIKO DAN KEPATUHAN TERHADAP TERAPI DENGAN KEJADIAN STROKE ISKEMIK ULANG
Bambang Bhayu Herlambang,* Ahmad Rizal Ganiem,* Aih Cahyani*
THE RELATIONSHIP BETWEEN RISK FACTORS AND COMPLIANCE TO TREATMENT AND INCIDENCE OF RECURRENT ISCHEMIC STROKE

ABSTRACT
Introduction: History of previous stroke is one of the prominent of many recurrent stroke risk factors. The incidence of recurrent stroke is 20-30% of all stroke population, while the recurrent ischemic stroke in 5 years may reach up to 40%. Recurrent stroke is associated with longer duration of hospitalization, increased neurologic disability, and death.
Aims: To describe the characteristics of recurrent ischemic stroke event and their relationship with preexisting risk factors, and to explore the relationship between compliance to treatment and incidence of recurrent ischemic stroke.
Methods: This was a cross sectional analytic descriptive study of recurrent ischemic stroke patients who were admitted in Neurology Ward Dr. Hasan Sadikin General Hospital, Bandung from September to November 2016. Subjects were divided into 2 groups, i.e. with and without history of stroke.
Result: The risk factors that associated with the incidence of recurrent ischemic stroke in this study were hypertension, diabetes mellitus (DM) coincided with hypertension, and DM with relative risks 2.47, 2.12, and 1.51, respectively. Non- compliance to treatment was associated with 2.5 times greater risk for earlier (≤12 months) incidence of recurrent ischemic stroke.
Discussion: Hypertension and DM, either stand alone or in combination were the major risk factors for incidence of recurrent ischemic stroke. There was relationship between non-compliance to tretment with earlier incidence of recurrent ischemic stroke.
Keywords: Compliance to treatment, recurrent ischemic stroke, risk factors
ABSTRAK
Pendahuluan: Kejadian stroke berulang memiliki banyak faktor risiko, terutama kejadian stroke sebelumnya. Insidens stroke berulang adalah 20-30% dari keseluruhan populasi stroke, sementara kejadian stroke iskemik berulang dalam 5 tahun dapat mencapai 40%. Kejadian stroke berulang ini berhubungan dengan durasi perawatan RS yang lebih lama, peningkatan kecacatan, dan kematian.
Tujuan: Untuk mengetahui karakteristik kejadian stroke iskemik berulang serta hubungan faktor risiko dan kepatuhan terhadap terapi dengan kejadian stroke iskemik berulang.
Metode: Penelitian ini merupakan studi deskriptif analitik dengan metode potong lintang terhadap pasien stroke iskemik ulang yang dirawat di bangsal Neurologi RSUP Dr. Hasan Sadikin, Bandung pada bulan September hingga November 2016. Subjek penelitian dibagi menjadi dua kelompok, yaitu dengan dan tanpa riwayat stroke iskemik sebelumnya.
Hasil: Faktor risiko yang berhubungan dengan kejadian stroke iskemik ulang pada penelitian ini adalah hipertensi, diabetes melitus (DM) yang bersamaan dengan hipertensi, dan DM yang berdiri sendiri, dengan risiko relatif berturut-turut 2,47; 2,12; dan 1,51. Ketidakpatuhan terhadap terapi berhubungan dengan risiko 2,5 kali lebih besar untuk mengalami stroke iskemik ulang dalam waktu yang lebih cepat (≤12 bulan).
Diskusi: Hipertensi dan DM, baik berdiri sendiri atau bersamaan merupakan faktor risiko yang paling berperan dalam kejadian stroke iskemik ulang. Terdapat hubungan antara ketidakpatuhan terhadap terapi dengan kejadian stroke iskemik ulang yang lebih cepat.
Kata kunci:
Faktor risiko, kepatuhan terhadap terapi, stroke iskemik ulang
--------------------------------------------------------
*Departemen Neurologi FK Universtas Padjadjaran/RSUP Dr. Hasan Sadikin, Bandung.
Korespondensi:
sambang32@gmail.com.
---
---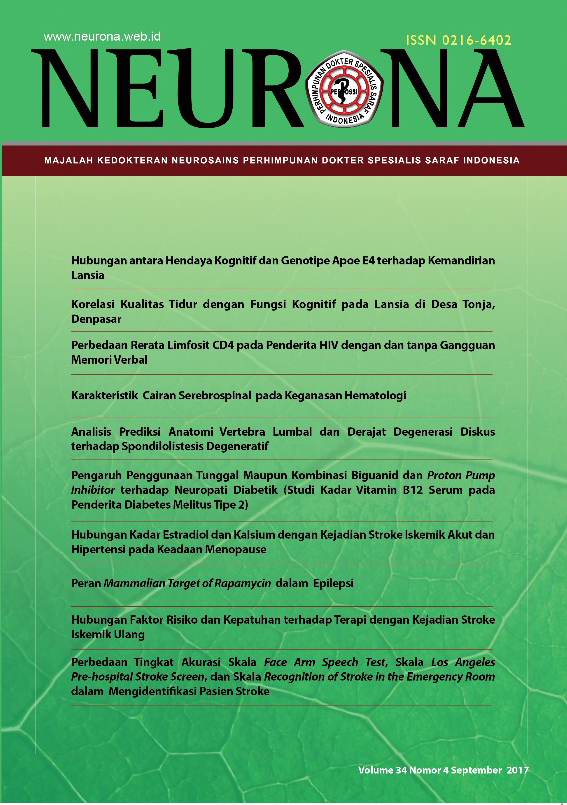 Vol. 34 No. 4 September 2017
Terakreditasi DIKTI Nomor: 12/M/Kp/II/15
Terindeks di



Statistik Pengunjung
| | |
| --- | --- |
| Visitors today | 0 |
| Page views today | 0 |
| Total visitors | 0 |
| Total page views | 0 |
Powered by Google Analytics